Why Kensington Pro Fit Products
Many of us work our PCs/Laptops for 8-12 hours a day, and while working for such long hours we face may discomfort due to our typing posture, hand angle, etc. But still many of us ignore the discomfort, and doing this in the long run, ain`t doing any good.
To get through this discomfort and have good productivity, we can use ergonomic products, such as the Kensington Pro Fit keyboard-mouse combo and the SamrtFit laptop stand with wireless charging.
---
Kensington Pro Fit Wireless Keyboard
The Kensington Pro Fit Ergonomic Keyboard looks quite unique, it has a V-shaped form factor that helps in the ergonomic feel of the keyboard, the palm rest attached is so good, if you are a person who types a lot or even works on the computer for long hours, you would definitely love this keyboard.
In terms of Build Quality, this keyboard feels like, it is made for long term usage, the plastic used is of good quality, the keys give good tactile feedback while being quite, the typing keys distance is good for average user hands. This Keyboard is also spill-proof which means you can worry-free of drinking your coffee or juice near your keyboard.
The Kensington Pro Fit Ergonomic Keyboard is a wireless keyboard that can be used via the Bluetooth connection/ receiver/dongle, this keyboard does not have a USB Connection, just in case the Keybaord battery gets over, you can`t use it, you have to put in new batteries to use the same.
In terms of data security, one of the best features we liked about this keyboard is that, it has a 128-bit AES Encryption Security, hence this makes a great product for work use.
---
Kensington Pro Fit Wireless Mouse
The Kensington Wireless Mouse doesn't look like the normal mouse out there, this is specifically made for better ergonomics and user experience. This mouse has 5 Buttons, the common one, Right, Left, and Center keys with the scroll and the two additional keys for forward and back.
There is a switch in the bottom of the mouse that allows you to toggle between 2.4GHz mode, Bluetooth mode, and Off mode to ensure you get the best battery life out of your mouse.
---
Check Out GT Racing GT-099 Gaming Chair Review
---
Kensington SmartFit Laptop Stand
This Laptop stand looks quite similar to the normal laptop stands out there but, this has wireless charging built into it in the bottom tray, many of use /have wireless charging docks or pads on our work tables, but with this, you can save some space on your table.
Assembling this Laptop stand is quite easy, you get the above items in the box for easy assembly, Once assembled you can connect the power adapter to the stand, and can charge your gadgets wirelessly.
There is a color-coded fitting plate given which allows you to customize your personal height in 4 settings, this can be useful when you have a working setup with a monitor or a gaming setup with few monitors to adjust the stand height according to the monitor or your comfort.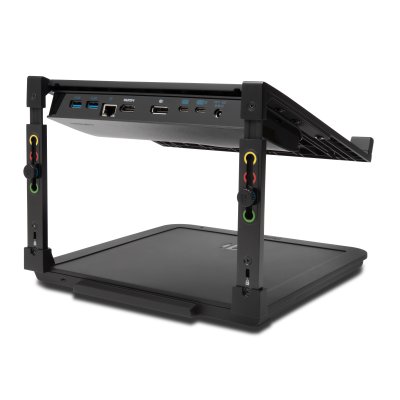 You can also mount a compatible Kensington universal dock under the laptop platform, this will save some space if you use a desktop on a small work space or a table.
---
Our Experience with Keyboard/Mouse & Laptop Stand
We really liked the Kensington Pro fit Keyboard and mouse combo, We used them as our primary keyboard and mouse for around a month and we definitely felt an increase in productivity, we were able to type faster, and the mouse precision was good.
The Laptop Stand saved us some space,as it replaced our wireless charger on the work table, overall we feel this is a good product to have if you multitask and have Laptop-Monitor setup.
---
Why Should you buy an Ergonomic Keyboard/Mouse
As the name suggests an Ergonomic keyboard is a special type of computer keyboard, that is designed with ergonomics into consideration, such keyboards generally have a V-shaped form that is natural for human hands, as it helps in better typing reduced strain in the hands.
---
Conclusion
After using these products for some time, we can definitely say the Kensington Ergonomic Pro-Fit Keyboard-Mouse helped us in typing faster and longer without any discomfort, plus using the laptop stand saved us some space in the work table, which can be used keep other gadgets.
---